As mentioned, both my father and his mother have taken the DNA test through FamilyTreeDNA.  This has thrown up a lot of links and connections and we are emailed constantly as more people are tested – but sadly I haven't yet had the time to check all the connections.
But here is a little snapshot of my paternal side of the family tree – let me know if you have any connections thescottsisters.co.uk[at]gmail.com.
My Dad's Dad – John Scott
John Scott was born in Glasgow, however it seems the Scott family were originally from around Quarter (SE of Glasgow).  The Wiggetts were from around Stirling although I suspect a few generations back and they were previously in England (possibly Worcestershire??).
The Duncans are a more recent and unknown connection that I haven't 100% confirmed with a paper trail.  They appear to have moved a lot with each generation successively born in Scotland, England and originally Ireland.  But this is not confirmed.  The other family names are also a little 'fluid'.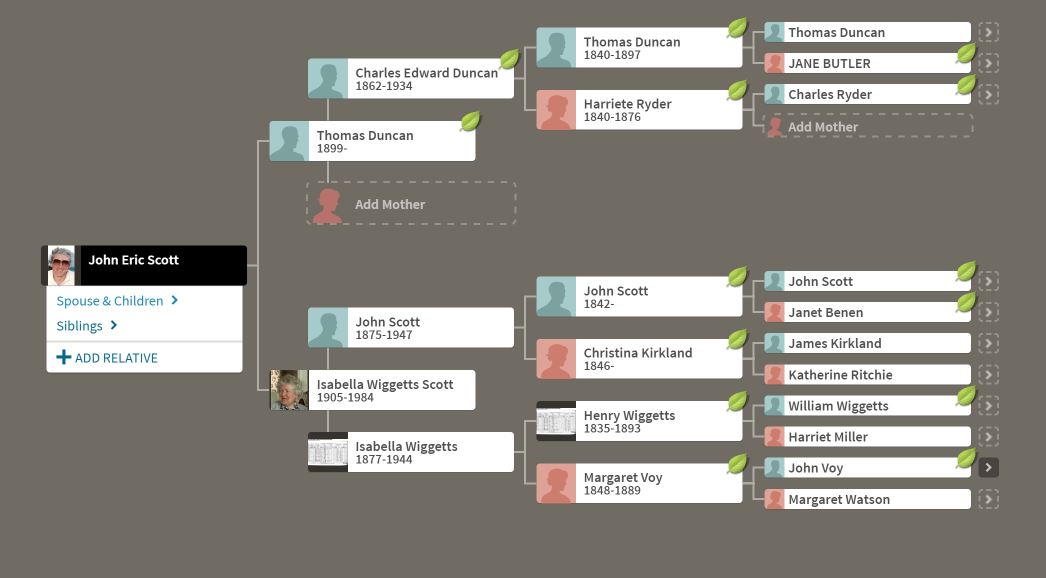 My Dad's Mother – Marion Edgecombe
The Edgecombe's are a well known family from the Devon village of South Milton.  They were there for many generations until Henry Edgecombe and his brother convinced his parents and some siblings to move to Australia.  The Stumbles and Beer families appear to be from the nearby village of Thurlestone, Devon.
The Buckingham family were from Plymouth; and the Norman and Ley families also from Devon, however they were in the Coastguard and seemed to move along the coast a lot.
The Davis side is a little tricky – because they aren't actually Davis.  Elsie was illegitimate and so I don't know her father.  She was born in Sydney, Australia though and so maybe we can one day find a connection?   Her mother gave the name Davis but after a long hunt I soon tracked down her family – they were actually Damyon.  The Damyon's originally hail from East London (only one generation) and before that were from Essex.  The Ferguson, Barnard and Wilson families were similarly from London, although they seem to have migrated there from Staffordshire, Norfolk, Shropshire respectively.