Recently I told a friend about a trip to Hastings where we found a flower maker's museum – just like an ancestor used to do. My friend laughed and that I seem to find a family history link to everything! I took that as a compliment (rather than a comment on my slightly obsessive hobby!). Then after a minute, I realised that actually, she was right – I do find family history links in most things! 
An adventure south-east
A few weeks ago, we ventured along the south-east coast to Hastings. I had never been there before and with only a few days to get away, were keen to look around. Looking online the night before, I stumbled across a link to the Flower Makers Museum.
In Australia, our family used to run a florist shop. And yes … I also have that relative who was a flower maker! Well, we were definitely going to be visiting that particular corner of Hastings! Even Dad was vaguely interested…
Arriving in the older part of Hastings, we turned up a side street and found two quaint shopfront window's full of flowers and leaves!
Flower Makers Museum (on the right) in Hastings.
Shirley Leaf and Petal Co.
The shop was stacked to the roof with boxes and materials. Inside, we were directed downstairs to the basement containing an amazing museum dedicated to the lost art of flower making. The premises are a working shop – they still make artificial flowers but times, and I think methods, have changed – but not entirely. 
And it wasn't just flowers that they made. Surrounding the stairs heading down to the basement were displays of nuts and seeds and petals. They were all samples of the work produced in this shop and many other shops like it.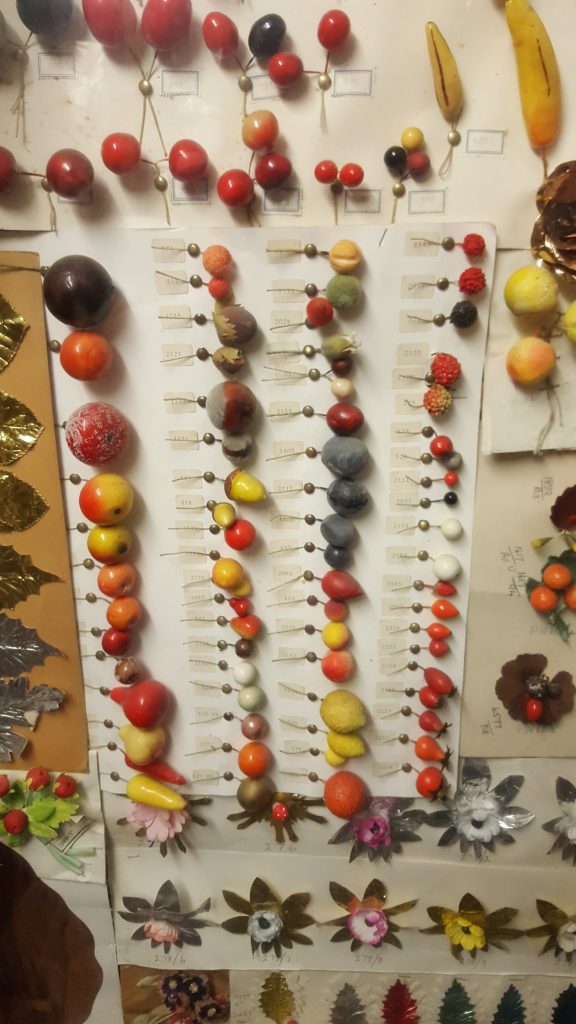 At the bottom of the stairs were cabinets full of tools and stamps in the shapes of every sort of leaf and petal you can imagine. The back room was taken over by an enormous stamping machine that is still used today. Over the years it seems the industry became increasingly mechanised (as with almost everything else!). In the Edwardian and Victorian times, women would work at home using hand tools – hot irons. Usually one would be in the fire warming up while the other was being used to curl and 'vein' the material into the shape of petals and leaves. These were then wired together to make the flowers and bouquets. 
Homeworking was usually a family affair. Mum would get the children to help by getting the hot irons out of the fire / stove and swapping them with the cooler one the mother had just been working with. I'm guessing there were more than a few injuries as this work took place not only at home, but often in small cramped lodgings of one or two rooms! In the cold dark winters you would have a mother working and kids running around underfoot with no tv to occupy them!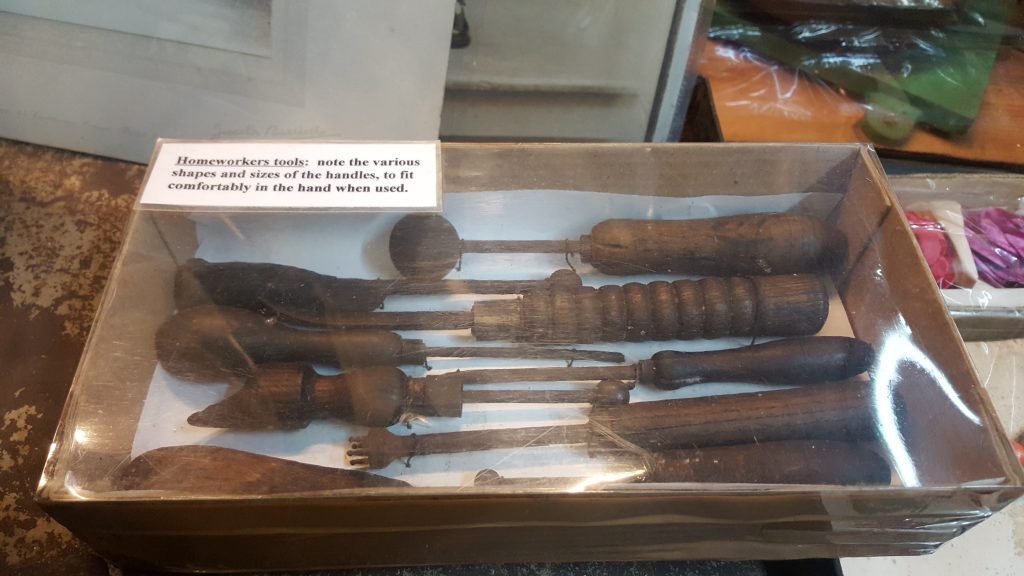 Why so many artificial flowers?
So what were all these flowers used for you wonder? Well, these days we think nothing of popping into a florist and picking up a fresh bunch of flowers. Maybe it's a special occasion for a friend on the weekend and you order a bunch of roses in advance. Or perhaps someone is organising their wedding and need fresh flowers for the church, the wedding party, the dinner venue, the cake, the throw away bouquet, hair crowns, button holes, thank you gifts, arrangements for the bathrooms…..so where do all these fresh flowers come from? 
In Europe, there is a large flower auction that takes place in Alsmere in Holland. If you see those creamy yellow square plastic stands at your florist…then that is usually where they come from. Flower selling…and stock markets, of course originated with the tulip (a story for another time) but now buyers and sellers trade all kinds of flowers like the London or New York stock exchange. It is an amazing place to visit. Flowers arrive from all over the world and are then dispatched off to wholesalers.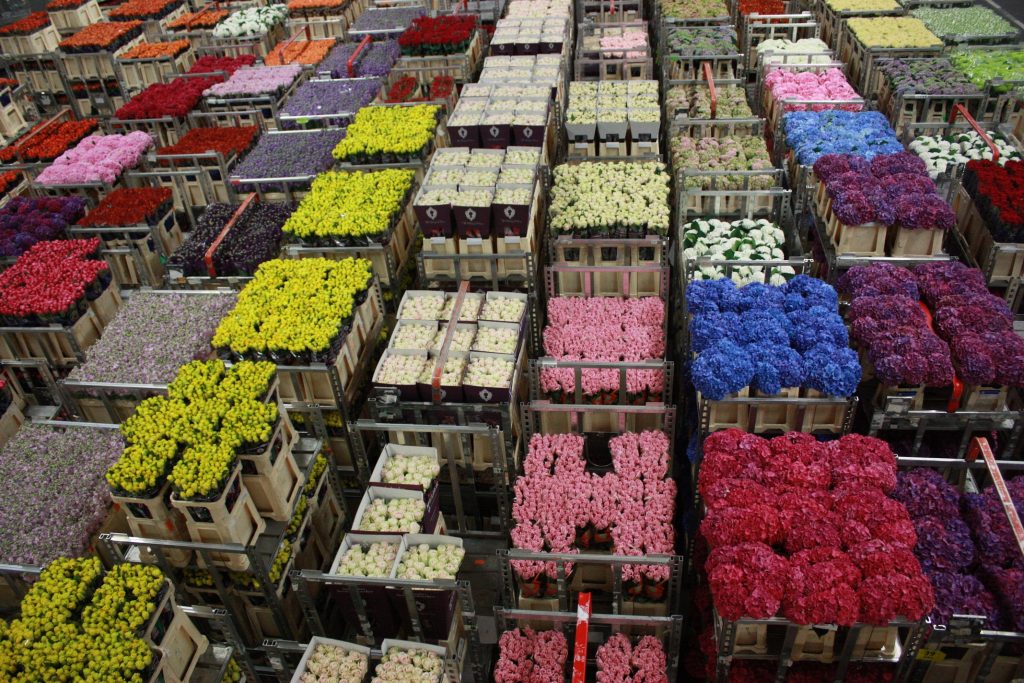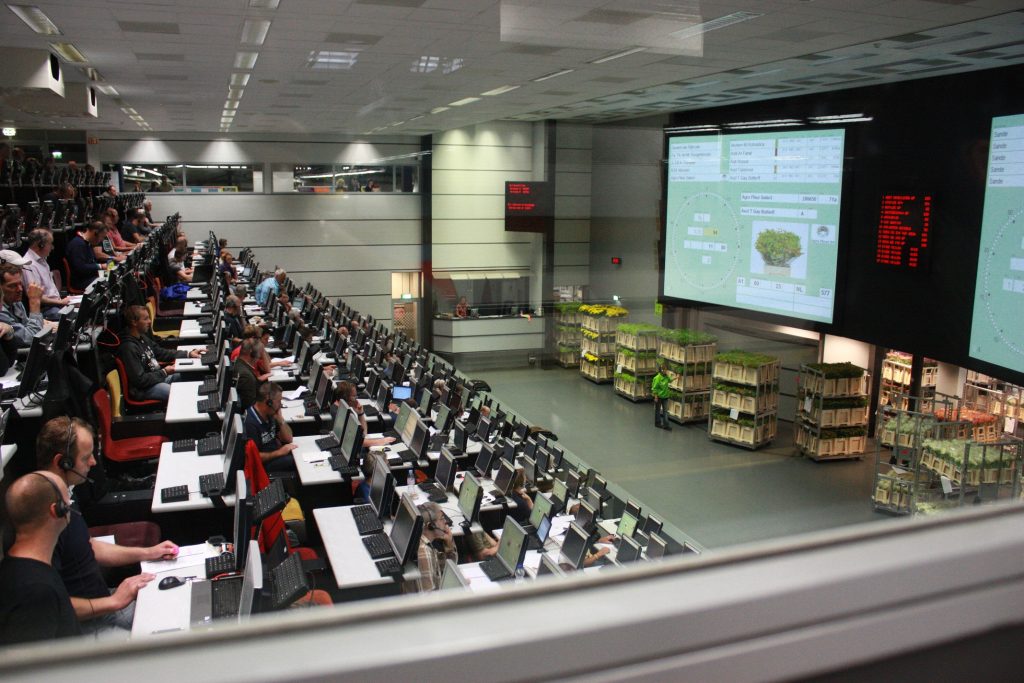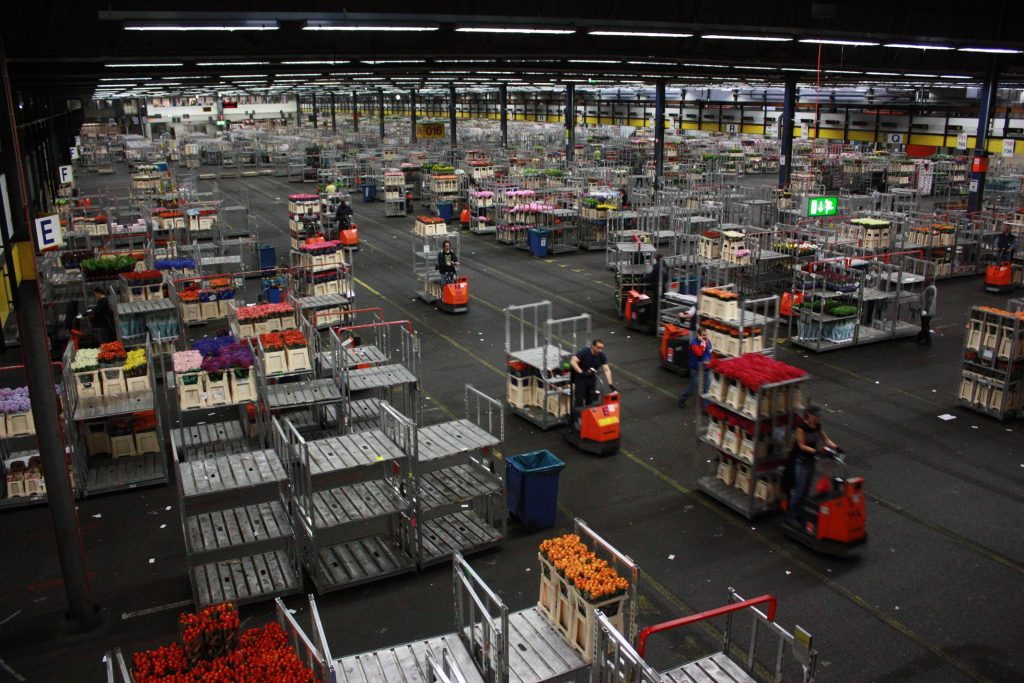 Here in London you can go to the flower markets at Columbia Road or in Covent Garden…but those flowers weren't grown here of course. Often they have come from the market in Alsmere, or perhaps direct from growers in lands far away.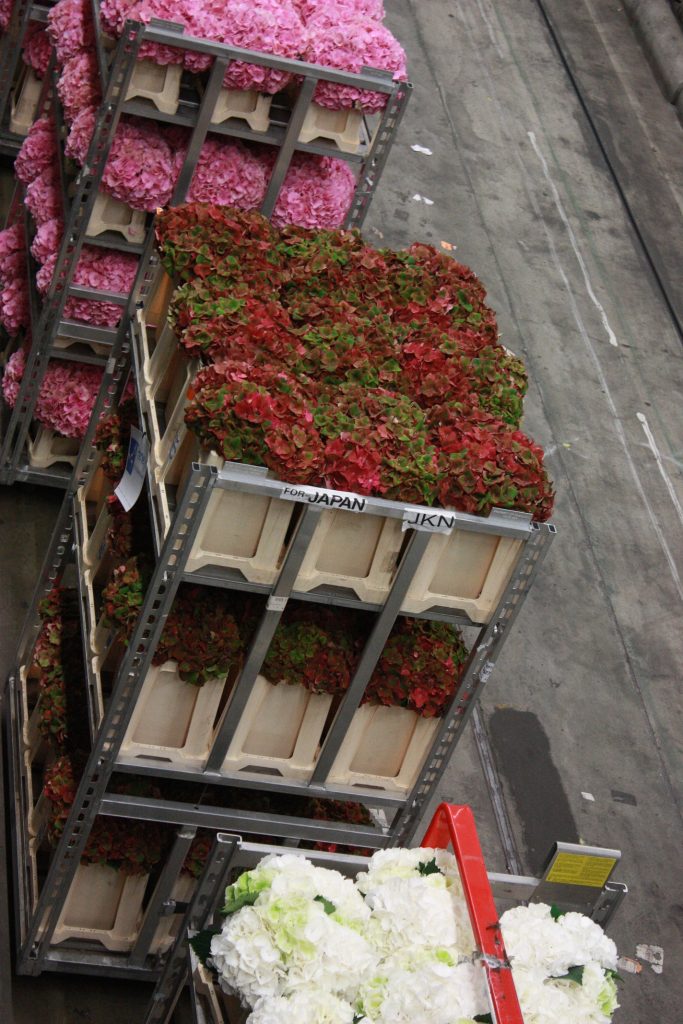 Back in Australia our wholesaler would drive 5 hours to the Sydney flower markets and pick our orders before delivering to the florists in the local area….5 hours drive! On Monday you could order a bunch of roses for a special occasion that weekend and by Friday we would be making the arrangement using roses grown in Columbia. Today, fresh flowers travel far and wide around the globe. They are transported in refrigerated planes and trucks, bought and sold many times along the way. Like fruit and vegetables, this also means that flowers can be grown in different seasons on the other side of the world and still be sold to us where ever we are.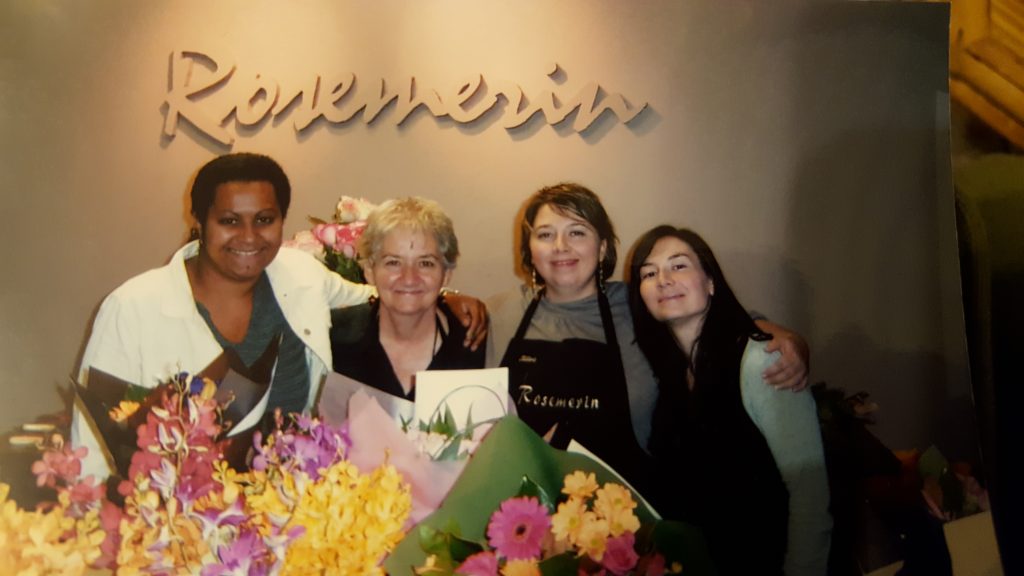 But, 150 years ago there wasn't quite the same global travel that we have today. Museums and galleries were full of exotic plants that Europeans had never seen before. Wealthy land owners would travel far and wide to collect specimens. They would then grow them in hothouses to replicate the tropical climates they came from. For example, the pineapple was so exotic, that the wealthy would rent a fruit for their dinner party (at an exorbitant cost) just as the centre piece. They wouldn't even eat it! The pineapple was then taken to another dinner party and rented for the evening. It was a real symbol of wealth and power. If you look at many of the stonework decorations and motif's on buildings in London and you will see pineapples. Even the Wimbledon Cup is topped with a gold pineapple as a symbol from a bygone era! 
But I digress…
So back to my flower makers…well people loved flowers 100 years ago too. But without refrigeration (or global markets) it wasn't quite so easy to pop into Sainsbury's and pick up a loaf of bread and bunch of flowers for the hall stand. Ladies also wore hats – and what adorned those hats? Flowers of course. Flowers were also stitched onto dresses too.

But it didn't stop there – flowers were used for advertising displays and marketing. A perfumed spray of flowers was sometimes attached to scent bottles. And without TV people went to the theatre. Artificial flowers were used on the backdrops to make it look more realistic. But they had to be made flame proofed so they wouldn't set fire to the place from the stage lights!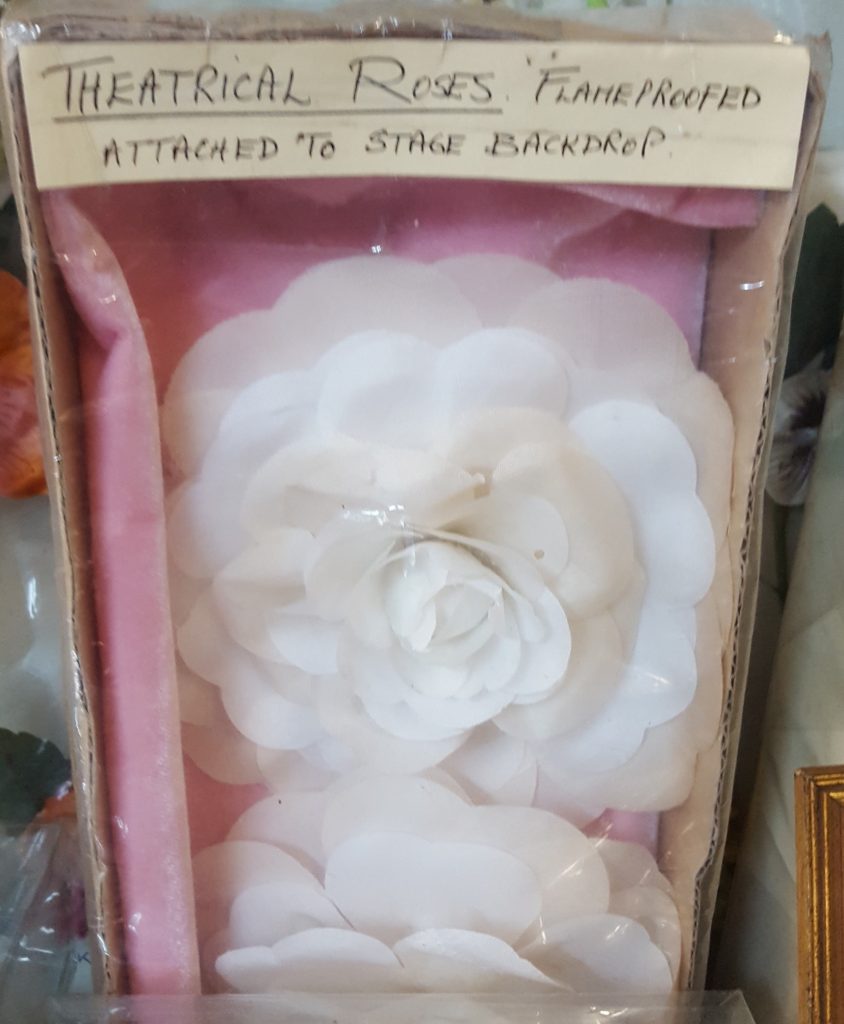 Even today, this little flower making shop in Hastings is used for movie sets. They have recreated an entire vineyard for a movie set, and even made gold leaves for the trees near the London Eye to celebrate an exhibition of Tutankhamen. 
The museum is entirely privately owned and receives no government grants or lottery aid funding. It is the only museum of it's kind in Europe. The rooms are full to the brim with unique artifacts and working pieces that show how this craft was done, and how it has changed, over the years. If you are in the area – pop in for a visit to the Flower Makers' Museum in Hastings. Even if you didn't have any family who made flowers – you more than certainly had family that bought flowers!